T-shirt, model 2018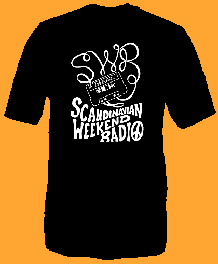 Product-id: SWRShirt-2018
Price-Hinta 17 eur
ABOUT THE TEE SHIRT:
CHOOSE ONE SIZE BIGGER, BECAUSE THIS MODEL IS "SLIMFIT"
HUOM: valitse yhtä kokoa isompi, koska malli on "SLIMFIT"
Colour: black
Available sizes:
S, M, L, 4XL and 5 XL
Double-CD
Honour of SWRs 100. broadcast


Product-id: SWR2CD-3
Kaksituntinen kooste SWR:n 100. lähetyksen kunniaksi tehdystä koosteohjelmasta
2 hour double-cd for honour SWRs 100. broadcast. Lots of programme samples.
Price-Hinta 5 eur.
SWR-stickers

Product-id: SWRSticker
Sizes: 20 x 10 cm and 10 x 5 cm
Packet price-Hinta 3 eur.
Size 10 x 5 cm
Price-Hinta 1 eur.
Double-CD
History of Finnish (Free) Radio

Product-id: SWR2CD-2

Suomalainen vapaa radioasema Radio Meteor lähetti ohjelmaa Korpilahdelta lähes 15 vuotta. Historiallinen äänite on yhteensä n. 160 minuutin mittainen tupla-cd.
Lots of free radio jingles and id's. Includes phone-interview with Rick Random in finnish language.

Price-Hinta 5 eur.
Double-CD
SWR Collection

Product-id: SWR2CD-1
Tupla cd-levyllä runsaasti näytteitä eri ohjelmantekijöiltä. Sarjan ensimmäinen on varmasti keräilyharvinaisuus.
Tunnareita ja mokia. Kesto noin 2 h.
Lots of programme samples and bloopers.
Duration: 2 hours.
Price-Hinta 5 eur.
Tilaukset - Orders:
tilaukset: swrkauppa(poistatämä-at)swradio(poistatämä-piste)net
By mail: SWR Shop, Hollitie 1025, FI-34930 LIEDENPOHJA, Finland
Payment after order confirmation by e-mail.
Tilaukset Suomesta: tee tilaus e-maililla. Maksa sitten, kun olet saanut tilausvahvistuksen.
Postikulut - Postage
Postimaksu lisätään tilauksen loppusummaan:
Postage is added to the order total with:
1-2 item/kpl: 6 eur, 3 or more items/kpl: 8 eur.
Maksuehdot - Terms of payment:
Outside Europe: by exact amount euro -bills in envelope or from Europe via Bank Account:
IBAN: FI30 1101 3000 1022 69 BIC NDEAFIHH
Maksut Suomessa: maksa tilauksesi summa tilille:
FI30 1101 3000 1022 69.
Maksun saaja: Vaihtoehtoisen radiotoiminnan tukiyhdistys ry.