25 meter transmitter
Technical facts:
RF output power: 100Watts
Frequencies: 11690 and 11720 kHz

Heinäkuussa 2001 SWR alotti lähetykset 25 metrillä ensimmäisellä lahettimellä, jossa tehoa oli 50 W.
In July 2001, SWR start broadcasting on 25 meter band with first transmitter which gives out 50 W.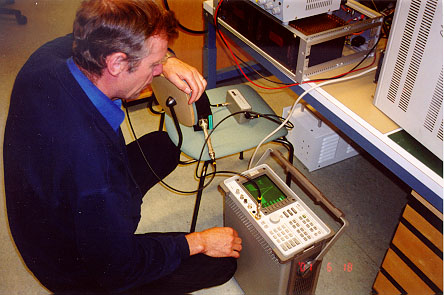 Ensimmäinen lähetin viranomaisten testissä.
First transmitter under testing of authorities.

Oskillaattorit ja lämpökontrolloitu uuni.
Oscillators and temperature controlled oven. Oscillators are type Colppits and those are made mainly by using surface mount components.

Driver stages, output power 5 W

2003 vanha 50 wattinen pääteaste korvattiin uudella 100 watin tehoisella versiolla. Samalla levyllä on sekä pääteaste, että modulaattori, joka on transistoreilla toteutettu ns. sarjamodulaattori.
In year 2003 old 50 W driver was replaced with new 100 W power version. At the same plate is driver and modulator, whitch is done with transistors. It's so called serial modulator.