Home
Administration
Articles
Dj's
Forum
Gallery
History
Reports
Schedule
Shop
Sounds
Shoutbox
SWRtech
SWR-TV
SPONSORS:




Sivu päivitetty - Last updated
09.07.2022

Antennas
25 mb antenna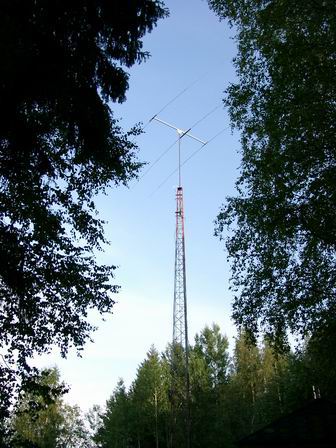 3-element beam for 25 meter band on 20 meter height.
48 mb antenna
48 meter dipole is about 9 meter from ground. Frequence range of antenna is 5735 - 6340 kHz ( SWR below 2.0 ) Actually usable frequence range of the antenna is almost 50% wider than bandwidth of traditional "wire" dipole.

Between broadcasts antennas were connected to the ground with copperrail.